TS Playground #22 - Ladyboy Edition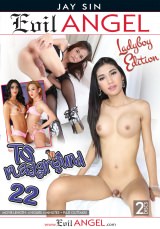 09-02-2015
5444
Categories
Asian
,
Hardcore
,
Anal
,
Blowjob
,
Big Dick
,
Brunette
,
Shemale & Tranny
,
Tattoo & Piercing
,
Cumshot
,
Rimming
,
HD Porn
,
LadyBoy
,
Male Fucks Shemale
Scene Description:
Sexy, seductive Thai she-male
Seang
loves teasing the camera, showing off her big, round tits and spreading her taut ass cheeks while wearing a skimpy thong. She greets her well-hung boy-toy, Spencer, by eagerly slurping on his huge cock, bobbing her head on his meat, then straddling him with his pole buried inside her tender butthole. Seang rides him until her anus is gaping. She strokes her uncut she-dick to a gooey climax... before getting her booty splattered in cum.
You might also like...
Date added:
05-31-2012
Length:
00:24:46
Rating:
94
Date added:
09-10-2012
Length:
00:31:52
Rating:
89
Date added:
10-29-2012
Length:
00:26:52
Rating:
95
Date added:
11-22-2012
Length:
00:40:19
Rating:
95
Date added:
11-07-2012
Length:
00:45:59
Rating:
98
Date added:
11-15-2013
Length:
00:32:25
Rating:
94
Date added:
10-06-2013
Length:
00:31:39
Rating:
92
Description :
Tattooed TS beauty Jenna Rachels is a slender, blonde creature with perky boobs and a stiff, juicy she-cock. This gorgeous ladyboy spreads her firm ass cheeks for the camera, exposing her tight anus, and masturbates until lucky stud Spencer Fox joins her and thrusts his tongue deep inside her sensitive rectum. The glamorous she-male bobs her hungry mouth on Spencer's prick, slurping his hard shaft until he slides it up her ass in a sensuous, doggie-style butt-fuck. He reams Jenna's sweet rear in several positions, and she submissively sucks cock ass-to-mouth until he splatters her gaping butt with hot sperm.
Date added:
11-29-2013
Length:
00:34:06
Rating:
89
Description :
Slender, adorable Sienna Grace is an ultra-feminine TS temptress with a huge she-dick. Best of all, this sultry she-male loves to get fucked! Dolled up in stockings and heels, she strokes her throbbing member... and wraps her lips around muscular stud Christian's fat cock. Sienna takes a passionate anal pounding from the beefy dude, her pale butt well stretched by his hard meat, and sucks him ass-to-mouth. She pumps their shafts together. With Christian invading her tender rectum, Sienna spills her own she-seed in climax. Finally, this gorgeous creature laps up a messy, gooey load from Christian's spurting cock.
Date added:
11-22-2013
Length:
00:45:59
Rating:
84
Description :
Built like a voluptuous cartoon, blonde, buxom she-male Sabrina Suzuki tempts boy-toy Alex Victor with her phat, meaty ass. Alex spreads oil on her giant rump, making it shine, then submissively sucks Sabrina's stiff she-dick. Black-haired TS beauty Jhenifer Dalbosco joins them, offering Alex her huge member, and soon it's a gender-bending Latin three-way. Jhenifer and Sabrina take turns invading Alex's tight ass with rude, throbbing girl-meat, and both curvaceous TS bombshells get butt-fucked. They even sandwich Alex in an anal daisy chain! When everyone's been thoroughly reamed, the ladies shower their slave with hot sperm.
Date added:
12-12-2014
Length:
00:20:15
Rating:
98
Date added:
03-08-2013
Length:
00:26:09
Rating:
100
Description :
Slender, busty Aor is a stunningly beautiful she-male, dolled up in sexy red stockings and a matching thong that barely conceals her meaty bulge. This glamorous ladyboy spreads her asscheeks, revealing her puckered anus for the camera, then wraps her red lips around the stiff cock of lucky stud Bo Ryder. Bo sucks on Aor's lady-prick, then thrusts his shaft deep into her winking butthole. After an intense session of anal fucking, Aor's tummy is splattered with hot semen.
Date added:
02-02-2015
Length:
00:23:33
Rating:
98
Description :
Dressed in sheer lingerie, gorgeous Asian ladyboy BaBaRa is a petite vision of TS femininity with a meaty, uncut cock swinging below. BaBaRa spreads her asscheeks to reveal her tight, puckered butthole, then obediently wraps her mouth around the dick of lucky stud Spencer. He buries his tongue, then his huge shaft inside the tiny she-male's rectum as she jacks her lady-cock. Soon she's sucking him ass-to-mouth while her sphincter gapes -- and getting her round titties splattered in hot semen.